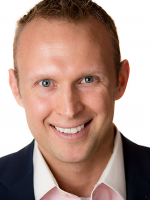 Tom Cymer, CFA, CFP®, CRPC®
With a double major in economics and psychology from the University of Massachusetts in Amherst Tom joined the nation's largest financial planning firm and achieved numerous awards including 1st year and 2nd year top achiever, Mercury award and the Centurion award. He later went on to become a mentor and trainer of new recruits as a P1 Certified Advisor Coach while maintaining his own practice. During his tenure there he achieved the Chartered Retirement Planning Couselor(TM) designation.
Tom's entreprenurial spirit got the best of him in 2009 when he chose to leave his position in order to start Opulen Financial Group, LLC and join the ranks independent advisors committed to providing client's with objective advice. Tom is a strong believer in continuing his education and as such has since gone on to obtain a certificate in financial planning from Boston University as well as obtain his CERTIFIED FINANCIAL PLANNER(TM) designation.
Tom is a native of Warsaw, Poland having immigrated to the United States as a child his family resides in New England and he has since settled in the Metro DC area. Tom is a member of the Financial Services Institute, past president of the Arlington Jaycees, active with various chambers of commerce in the area.